Celebrating my 40th year special
by OutbackAdventurer
(Brisbane)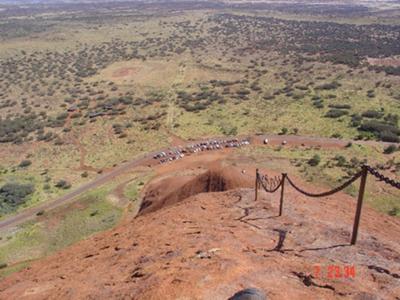 The View from Ayers Rock
I loved Ayers Rock (Uluru). Not only did I choose to climb but I also did the extended helicopter flight over it.

Why climb? Uluru has always been Ayers Rock to me. I am a born and bred Australian and this rock is as much a part of me, as it is to any modern born Aboriginal.

You are asked to pay to enter the park, which the proceeds are shared by the Reserve and the "traditional owners". The more sacred areas of spiritual importance are "OFF LIMITS" to visitors. I decided that yes, I would climb.

Being a size 18, the steep initial climb was a challenge. But, once on top, the rest of the walk and the decent was easy and not difficult at all.

I loved sharing the experience with my 14 year old son and would do it again.
---
Return to Outback Australia Travel Guide home page