Uluru Trip Reports and Discussion

Read what other readers thought about their trips
to Uluru, join the discussion around Ayers Rock.
Below are older Uluru trip reports as well as questions and discussions that readers had in the past.
On the main Ayers Rock page you can find the newer reader pages, as well as a submission form to share your own thoughts about Uluru and the controversial issues surrounding it.
The discussion so far has been lively. As was to be expected, the Uluru climb is the most hotly debated topic. But also the issue of ownership, the national park fees, even some regulations like the dog ban in Australian national parks have stirred up emotions.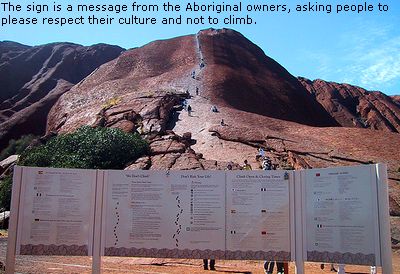 Photo by Melalouise
(See the page on climbing Uluru to find some background info.)
Please, don't hesitate to add your voice. You can use the submission form on the main Uluru page to write about your own Uluru trip or you can comment on the existing reader pages there and of course the archived pages below.
Readers talking about their trips to Uluru...
Click below to read the archived trip reports and questions about Ayers Rock from other readers, and the comments and answers they received.
Read more about Uluru, Australia
---
Return to Outback Australia Travel Guide home page