Uluru or Kakadu?
by Caitlyn
(Robina, Queensland)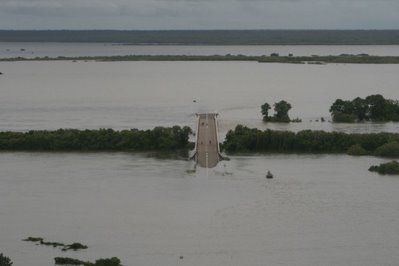 Kakadu in March
If you had to go to the Outback, would you do Alice Springs/Uluru or Darwin/Kakadu? I don't think we're going to be able to do both. I think it might matter what season you go in too. We'll be going in April.

Response to: Uluru or Kakadu?
Hi again Caitlyn,
It depends. Kakadu in April is a gamble. The photo at the top was taken in March last year. It shows one of the main roads inside Kakadu. That's not normal, but it can happen. The same thing can happen in April, too. (Unlikely, but it could.)
Also, even though the main sealed roads are probably just fine, some areas inside Kakadu could still be closed to the public, for example Twin Falls and Jim Jim Falls, maybe Gunlom.
On the other hand, if we don't get a lot of rain in March/April, and if you get here late April, it could be a spectacular time of the year to see all the falls. As I said, a gamble.
Litchfield
will be accessible but Wangi Falls will be closed for swimming (too dangerous with that much water coming down the falls).
Katherine Gorge
will be closed for canoeing and probably swimming, and most of the walks will also still be closed.
Here are other reader questions about
Kakadu
in April:
Kakadu in the middle of April
Kakadu and Litchfield in 3 days
The centre (
Uluru
, Kings Canyon,
MacDonnell Ranges
) should be beautiful that time of the year. (But even there you could run into a shower or downpour, you just never know.) The only downside is that there will be a LOT of flies.
The decision is also a matter of preference. The region around
Alice Springs
looks more like the typical Outback cliché, all red sand and rocks. The north around Kakadu/Litchfield/Katherine Gorge is lush and green and tropical.
Join in and write your own page! It's easy to do. How? Simply click here to return to Kakadu Australia.
---
Return to Outback Australia Travel Guide home page