Alice Springs to Ayers Rock - 5 1/2 days
by P. Housden
(Harrisonburg VA)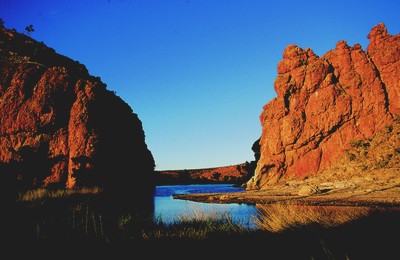 Near Alice Springs: Glen Helen
I will be arriving in Alice Springs in the afternoon of March 24th. I will be driving the back way via Kings Canyon to Ayers Rock (4wd). I definitely want one night at Alice Springs and one night at Kings Canyon and two nights at Ayers Rock.

I am undecided about the other two nights.

I will be flying out of Ayers Rock on March 30th.

My original plans were two nights in Alice Springs and two nights at Kings Canyon and two nights at Ayers Rock, however, I am wondering if I should take one night away from Alice Springs and spend the night along the way at Glen Helen Resort.

Thanks for your help.

Response to:
Alice Springs to Ayers Rock - 5 1/2 days
Do I read your message right that you don't want to camp anywhere? In that case I think one night at Glen Helen Resort definitely makes sense. It gives you a chance to explore the attractions in the
West MacDonnell Ranges
, and they are well worth exploring. It is a beautiful area.
One night at Kings Canyon should be enough. So you still have one night to play with. Where you spend that is a matter of personal preference.
I personally would spend it in
Alice Springs
and spend some time in the
Desert Park
there, visit the
Reptile Centre
, the Telegraph Station Historical Reserve... Otherwise, if you arrive in the afternoon and only have one night you won't see anything of Alice Springs itself.
Especially the Alice Springs Desert Park is a must. You will get more out of the rest of your visit if you you visit the park first.
Hope that helps!
General information:
Alice Springs
Ayers Rock
Photo courtesy of Tourism NT, ©
---
Return to Outback Australia Travel Guide home page