Camper Van and 4WD for Alice Springs area
by David
(Paris)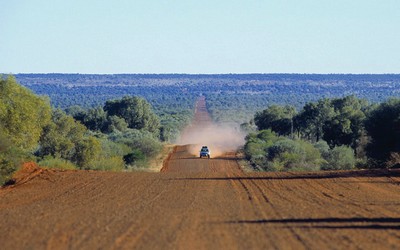 The Mereenie Loop Road (Alice Springs area)
I will be coming with my family in August to visit the area around Alice Springs, and we have allocated about 6 days for this area. We are thinking of renting a campervan, and I was wondering if we would need to specify a 4WD van to be able to drive on some of the dirt tracks in the area.

Most campervans seem to be 2WD. If we could only get a 2WD campervan, would this greatly restrict where we could realistically visit in 6 days?

Also, are there any problems camping out in that time of year? I guess it must get cold at night.

If possible I would like to hire a van at Ayers Rock Airport and drop it off at Alice Springs airport. Would that be possible?

Final question. Although I can find general itineraries and ideas for touring in the area, is there somewhere where I can find detailed itineraries which indicate a choice of "ideal" tours in the area, mentioning good places to camp, etc?

Thanks in advance and keep up the good work.
---
Return to Outback Australia Travel Guide home page